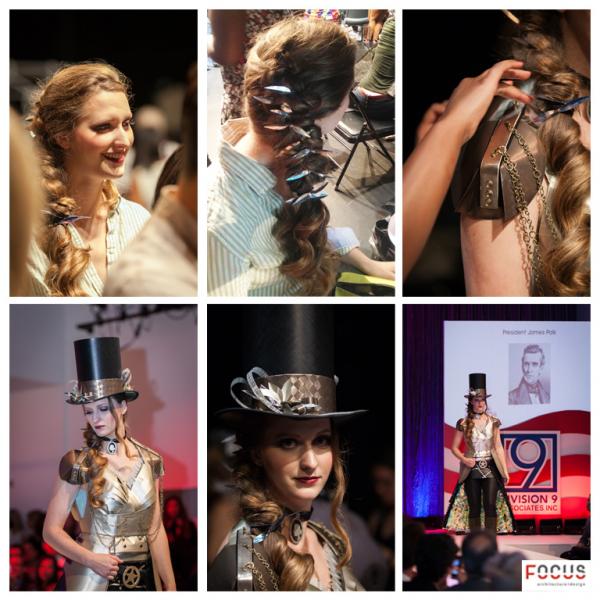 Cosmo Couture 2014: A Model's Story
Posted Oct 21, 2014
Footsteps on shining hardwood floors lead us upstairs where preparations for the evening are already being made. Countless helping hands flurry about arranging glasses, tablecloths, and napkins. Sounds of deep echoing voices and pounding hammers carry to us as they create the runway stage. We pass through the ballroom and find ourselves backstage. As we pass through the doorway and into sparkling lights, I think back to three months prior when our Cosmo journey began.
I recall some of our first meetings with sketches drawn up around the conference table and one crazy idea after another being added to a growing list of unique concepts. When we came to a decision and submitted the official sketch to the Cosmo event team the real work began. And I will say this: it was not easy.  After many late hours (which we're afraid to count), frustrating templates, and carefully calculated cuts the dress and all its accessories were complete. It all led to this one night.
Our arms are filled with crates of extra material, makeup bags, a full-length mirror, an unusually curvaceous mannequin, and one very important garment.  As we look around the backstage room I notice the walls, ceiling, and floor are all painted black. The edges of the space are lined with mirrors, tables, and chairs where several groups are starting their model's hair and makeup. We steal a small space along the back wall which seems to shrink in on us as the room fills up.
As I watch each group sewing last minute pieces together, getting dressed, and clouding the air with hairspray it begins to feel as though I have stumbled onto some glamorous episode of a runway television show. It's hard to believe I am a part of this stunning ultra-reality, what an experience to see looks come together as camera flashes fill the air.
As show time comes closer so does our excitement, the very air becoming filled with eager anticipation. Smiles shine on everyone's faces as we primp before lineup. Waiting for our time to shine, the models all help one another make last minute adjustments and give kind, whispered words of encouragement.
The energy from the crowd fueling the show, each model shows off their firm's design. I wait behind the stage wall before my turn. I can feel the pulse of the music rushing at my feet through the stage floor, its fast beat seems to match my heart's. Following the signal to walk, I step out into the runway and strike a pose under blinding white lights. Cheers from the audience reach my ears and although my mind hesitates my legs seem to know what to do and the rest of me follows. Before I know it the camera flashes are behind me and I find myself once again backstage. Each model seems to leave the runway with an even bigger smile than before. The audience loves it, and so do we.
The rest of the evening is filled with decadent desserts and delicate glasses filled to the brim with shimmering drinks.  We leave the Artisphere with falling hair, a spark in our eyes, and happy hearts.
Hats off to all the contributors to Cosmo Couture 2014, I can't wait to see what you come up with next.  
Back to Main Blog