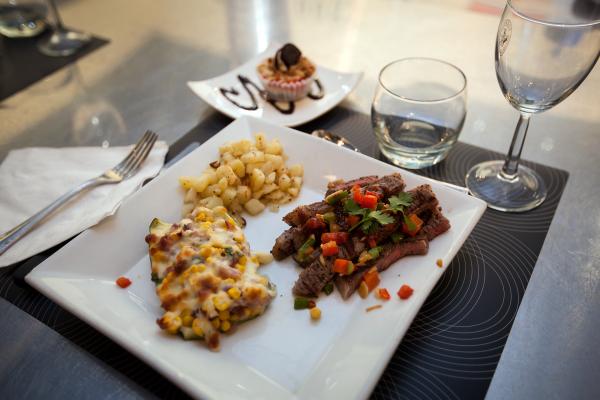 Dinner Inspiration: Grilled Steak with a Chipotle Lime Sauce, a Zuchinni Boat, and Mini Oreo Cheesecake
Posted Oct 22, 2014
Over the summer our office split into two teams and battled at Cookology to find out who could make the best dish! We loved how our dishes turned out so much that we decided to share them with you. Here you'll find the Green Team's recipes for a stuffed zucchini boat to start, a grilled steak with chipotle lime sauce, and mini Oreo cheesecakes to finish. Enjoy!
If you're into creamy chicken linguini with a Cajun kick check out the Blue Team's Recipe here.
Stuffed Zucchini Boats
2 medium sized zucchinis
1 ear of corn
1 small diced red onion
1 clove of garlic, minced
2 tbs olive oil
¼ cup crumbled feta cheese
¼ cup shredded cheese of your choice
Fresh chopped parsley
Salt and pepper
Preheat your oven to 350 F and line a baking sheet with parchment paper.
Sauté the onion and garlic with the olive oil until they are softened. Add in the fresh corn kernels, parsley, and season well with salt and pepper. Cook until vegetables have softened. Take off heat and set aside.
Slice your zucchini in half (long ways) and scoop out the inside leaving about a ¼ inch border around the edges. Discard the seeds but dice up the rest of the inside and add into the vegetable mix. Add in the cheese and mix all together.
Place our zucchini halves on your baking sheet and stuff with the vegetable mixture. Sprinkle with the shredded cheese of your choice and bake for 15 to 20 minutes, until the cheese has melted and the filling is slightly browned.
Grilled Steak w/ Chipotle Lime Drizzle
Dry Rub
Garlic Powder (qty. to your liking)
Sea Salt (qty. to your liking)
Black Pepper (qty. to your liking)
Chili Powder (qty. to your liking)
Mix the dry rub ingredients in a bowl and rub onto steak. Grill steak to medium (or your preference). Let steak sit for five minutes and slice. Place sliced steak in a fanned arch (or circle) on plate and top with fresh squeezed lime juice.
Chipotle Lime Sauce
1 Can of Chipotles
Worchester Sauce (few dashes)
1 Lime (juiced or hand squeezed)
Cilantro - Finely chopped (2 heaping tablespoons)
Sugar (1/2 cup - more or less to your liking)
1/4 cup of honey
Add just the sauce from the chipotle container into a bowl.  Add Worchester sauce, lime juice, cilantro, sugar and honey. Pour sauce into sauce pan and simmer until heated thoroughly and bubbling. Stir often to keep sauce from burning. Remove from heat.
Caramelized Onions
1 large Vidalia Onion or Yellow Onion - Diced
Worchester Sauce (several dashes)
Olive oil
Add a drizzle of olive oil to pan to a sauté pan on medium-heat. Add in onions and Worchester sauce. Cook until the onions have caramelized and are slightly soft.
Drizzle sauce on steak (less is more unless you LOVE the heat!), top with caramelized onions and serve!
Mini Oreo Cheesecake
Oreo Cookie Crust
• 20 Oreos
• 3 tablespoons unsalted butter, melted
Peanut Butter Cheesecake Filling
• 16 oz. (500 g) cream cheese, softened
• ½ cup (125 g) creamy peanut butter
• ½ cup (100 g) brown sugar
• 1 tablespoon all-purpose flour
• 2 eggs, at room temperature
• ½ teaspoon vanilla extract
White Chocolate Ganache
• 4 oz. (113 g) white chocolate, chopped
• ¼ cup (60 ml) heavy cream
• Optional: your favorite topping
1. Preheat the oven to 350 degrees. Line two cupcake pans with 16 paper liners.
2. For the crust: In a food processor, pulse whole Oreos until they become crumbs. Add in melted butter and pulse until moistened. Press an even amount of Oreo crust into the bottom of each liner. Press down the crust with the back of a spoon. Bake for 5 minutes. Remove from oven and allow to slightly cool while preparing cheesecake filling.
3. For the filling: In a big bowl, beat together the cream cheese and peanut butter, until smooth, scraping down the sides of the bowl as needed. Add the sugar and flour, and beat on medium speed until combined. Add the eggs, one at a time, beating on low speed after each addition until just combined. Beat in the vanilla extract. Divide cheesecake mixture among cupcake cups filling each cup nearly full. Bake for 20-23 minutes. Don't over bake. It should be slightly jiggly in the middle. Remove from oven and allow to cool completely at room temperature, at least 1 hour, before adding chocolate ganache.
4. For the white chocolate ganache: Microwave chopped chocolate in 15-second intervals until chocolate is almost melted. Stir to fully melt and set aside. In a small saucepan, heat heavy cream until just about boiling, stirring constantly. Remove from the heat and pour hot cream over chocolate. Stir to blend well. Allow to cool and thicken.
5. Spread the ganache evenly over cheesecakes. Top with Oreo chunks, pecans, chocolate sprinkles or your favorite topping. Transfer to the fridge and refrigerate until the ganache is set. Enjoy!
Dessert recipe from yummyaddiction.com 
 
Back to Main Blog