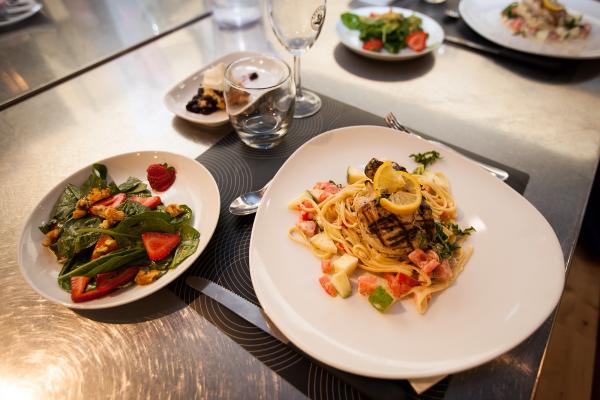 Dinner Inspiration: Strawberry Spinach Salad, Grilled Chicken Linguini, & White Chocolate Blueberry Brownies
Posted Oct 21, 2014
Need a little dinner inspiration?
After having a fantastic time at our Cookology team building event we decided to share our recipes with you! Here you will find the the delicious three course meal from the Blue Team including a Strawberry Spinach Salad to start, Grilled Chicken Linguini with a Lemon Cream Sauce, and White Chocolate Blueberry Brownies to finish. Enjoy!
Interested in steak with a chipotle lime drizzle? Check out the Green Team's recipe here. 
Strawberry Spinach Salad with Bacon Dressing and Candied Curry Walnut
Salad Ingredients
   Spinach
   Strawberries (fresh and sliced)
   Shallot (chopped)
Dressing Ingredients
   Kosher Salt
   Black Pepper
   Honey
   Brown Sugar
   Dijon Mustard
   Garlic
   Shallot (thinly sliced)
   Balsamic Vinegar
   Extra Virgin Olive Oil
   Rendered Bacon Fat
Mix together the salt, pepper, honey, brown sugar, mustard, garlic, shallots, and vinegar. Once blended slowly whip in the extra virgin olive oil and bacon fat until it becomes creamy. Set aside.
Candied Curry Walnuts Ingredients
   Walnuts
   Sugar
   Salt
   Black Pepper
   Curry Powder
   Paprika (optional)
Place sugar in skillet.  Heat on low until sugar is melted.  Remove from heat and add walnuts and stir until covered.  Pour onto a silpmat or other non-stick surface and spread out to cool.  Once cool, break into pieces, add spices to taste.
Toss together strawberries, spinach and shallots. Add dressing (no longer than) 5 minutes before serving, top with candied walnuts.
Grilled Chicken with Linguini in a Lemon Cream Sauce
Ingredients
   Chicken breast
   Garlic
   Olive oil
   Honey
   Pepper
   Salt
   Cream
   Lemon zest
   Pepper
   Cayenne pepper
   Parmesan cheese
   Roma tomatoes
   Zucchini
   Linguini pasta
1. Marinate boneless chicken breasts for at least 30 minutes
2. Flatten boneless chicken breasts and grill
3. Mix cream, lemon zest, salt, pepper and cayenne pepper in sauce pan and bring to boil
4. After boil, reduce heat and stir in parmesan cheese shavings to melt. Season to taste
5. Dice roma tomatoes and zucchini, then sautee in pan with olive oil. Season to taste
6. Boil pasta (linguini or some other flat pasta)
7. In separate sautee pan add portion of cooked pasta, vegetables and cream sauce.
8. Heat slightly and stir to coat pasta with sauce
9. Remove from heat and place pasta on plate, use tongs to twist
10. Spoon sautéed veggies and remaining sauce on plate over and around pasta
11. Cut chicken breast in to slices (on the bias) and place on top of pasta
12. Add fresh basil for color and flavor
White Chocolate Blueberry Brownie
Ingredients
   4 (1-oz.) white chocolate baking squares or white chocolate chips
   3/4 cup butter
   1 1/2 cups granulated sugar
   1/2 cup firmly packed brown sugar
   3 large eggs
   1 cup all-purpose flour
   1 teaspoon vanilla extract
   1/8 teaspoon salt
   1/4 cup chopped pecans
   1 cup fresh blueberries
   1 (4-oz.) white chocolate bar, coarsely chopped
   Blueberry Sauce (optional - recipe below)
   Whipped Cream (optional - recipe below)
1. Preheat oven to 350°. Line bottom and sides of an 8-inch pan with aluminum foil, allowing 2 to 3 inches to extend over sides; lightly grease foil.
2. Microwave chocolate squares and butter in a large microwave-safe bowl at HIGH 1 1/2 to 2 minutes or until melted and smooth, stirring at 30-second intervals. Whisk in granulated and brown sugars. Add eggs, 1 at a time, whisking just until blended after each addition. Whisk in flour, vanilla, and salt. Fold in blueberries, chopped white chocolate and pecans into batter.
3. Pour mixture into prepared pan.
4. Bake at 350° for 44 to 46 minutes or until a wooden pick inserted in center comes out with a few moist crumbs. Cool completely on a wire rack (about 1 hour). Lift brownies from pan, using foil sides as handles. Gently remove foil, and cut brownies into 16 squares. Add blueberry sauce and whipped cream for garnish.
Blueberry Sauce
   1-2 cups fresh blueberries
   1/4-1/3 cup sugar
   Lemon Zest
   1 tbsp. lemon juice (if sauce is not tart enough)
Place sugar and blueberries in a sauce pan on medium low heat until sugar melts and blueberries simmer.  Add lemon zest (and juice as needed).  Serve over brownie.
Whipped Cream*
   2 tablespoons sugar
   1 cup heavy whipping cream
Place a metal mixing bowl and metal whisk into the freezer for 10 to 15 minutes. Place the sugar into the mixing bowl and add the whipping cream. Whisk just until the cream reaches stiff peaks. Store any unused portion in an airtight container for up to 10 hours. When ready to use, whisk again for 10 to 15 seconds.
*Whipped Cream from Alton Brown, 2009.
Back to Main Blog